CleverHeim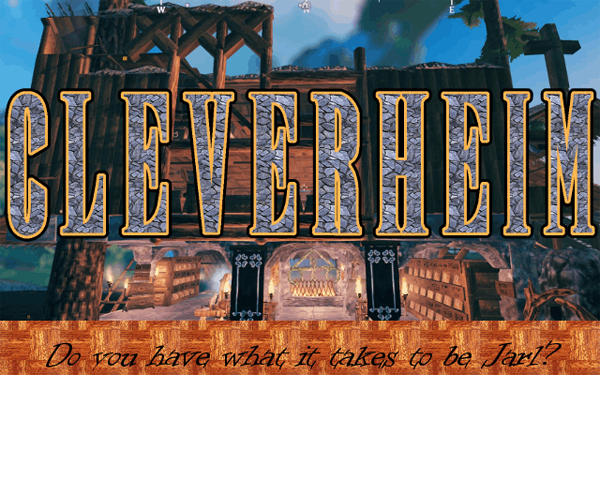 [Current Status]: End Game
We started out having skipped Eikthyr and the Elder and went straight to Bonemass. We then backtracked and killed Eikthyr right before we took on Moder. We're presently (26.MAY.2021) at 2/5 Fuling Totems and on the hunt for more while we build out bases across the vast expanse of Valheim. [Status mostly unchanged, 29.MAY.2021]
[Intro]
CleverHeim is a fresh seed started May 12th, and we're trying to pick up players who want to have a chill time playing through the game. Valheim veterans and newbies alike are welcome. Eventually we plan to increase the server cap, and the earlier you join, the better chance you have to be Jarl of your own village.
[Jarls]
In the near future, I will be implementing a system to appoint Jarls. It will basically be a vote among the current Jarls when someone declares his intent to become one.
Only Jarls will have the authority to establish wards. Any ward found that does not belong to a Jarl will be destroyed, and the culprit judged by a council of Jarls. Each jarl will control a Jarldom, a region of land (often an island or large chunk of island. Jarls blessed in one resource can trade with Jarls not-so-blessed in that resource, but more blessed in another.
Jarls may establish Clans. Each member of the clan is subject entirely to the Jarl's rules. Jarls establish criteria for both entrance and departure from the Clan, as well as any code of rules. For example, a Jarl might task Clan members with helping out with gardening or resource-gathering, another Jarl might have weekly PvP tournaments, another jarl might forbid PvP altogether.
Jarls will have special access to events I'll be coding onto my server. [Top-secret hush-hush need-to-know material.]
[Mods]
Vanilla Valheim is awesome, but we are using some features of Valheim Plus to enhance quality of life.  Additionally, I have (for a limited time, since we're all starting new characters) increased the amount of EXP you will gain for skills, just to get us started out.
An additional Mod we will be using is "Valheim ServerSideMap" to recieve map/pin updates while offline, since the character map will be stored and synced on the server instead of on your client.
I'm very willing to listen to suggestions for other ValheimPlus options or other mods entirely.
[Join]
If you would like to join, please contact me on Discord, or drop me a message here using the "Contact Owner" link to the right. We will give the password out shortly before launch over Discord. *Please note*, by default, you will only see a few channels on my Discord Server. Just gimme a bit to see you've joined, and I'll grant you the right access. (Had to say this because had a few people join and then leave right away, hahaha.)
Discord: sarteck#2757
Positions filled: 5/20
Tweet