Midgard Vanilla Valheim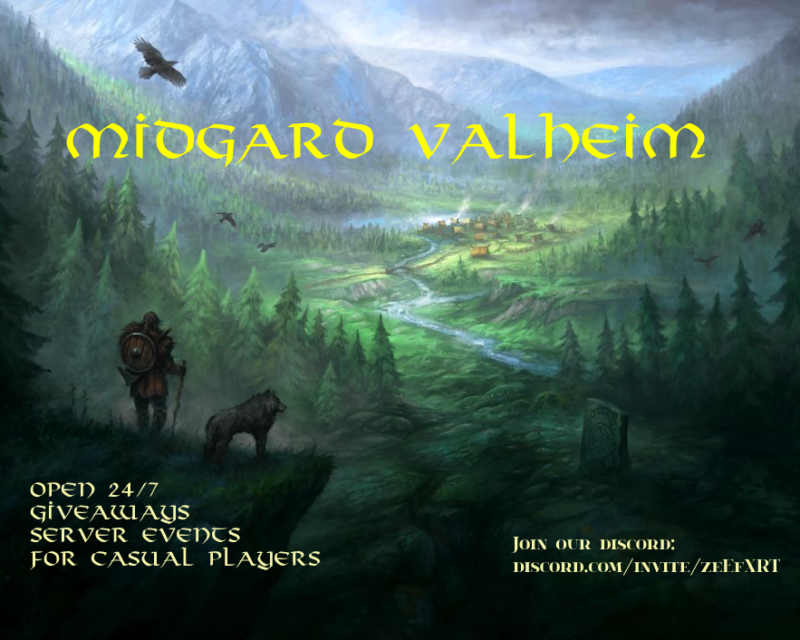 Check out our Server Trailer

Looking for an amazing, welcoming Valheim community?
We have a large community of 1,500 members open to all! Join Unova Legends!
Our network has some of the top servers based on Valheim public servers!
Alfheim, our MMO server, hit NUMBER 1 in America, according to Battle Metrics statistics on March 30th!
Midgard Vanilla Server:
– Simplistic Valheim with a warm community open to those who enjoy normality
– Fresh Server
– Opened May 5th!
– Dedicated Moderators & Admins to ensure your security on the server
– Buy & Trade discord channels
– Yagluth disabled Join in on the fun in community events, boss fights, and much more!
All ages are welcome, so come join us! Let's make some incredible memories together!
Tweet
Reviews
a good server with a friendly community 👍 if your looking for the vanilla game but with other players this is it.
Really enjoyed my time on this server! Staff was super welcoming and warm when I needed help. They have such a lovely community & several servers to play on. I myself really enjoyed Midgard as I'm not as experienced with the game yet and wanted something relatively easy-going. The playerbase there was super helpful and made me feel welcome the second I joined! Highly recommend.
If you are looking for a place to play Valheim with others and live a unique experience, Unova is your one to go
It has a friendly safe community, and an extremely helpful staff
Out of a personal experience, I highly recommend it
The community is really welcoming and the server is really good. The owners are constantly looking for new ways to make the server fun like server events and updates!